Welcome to 'The Champagne Club!'
Owning a racing greyhound is a very exciting hobby but the cost of buying your own greyhound and then funding the kennel bills, veterinary costs and homing fees can become very expensive. However, being involved in a syndicate is not just about sharing costs…it is also about sharing the joy of winning. That's why The Champagne Club was formed over 30 years ago and it has now grown to become one of the most successful syndicates in this great sport winning many big competitions like the The Yarmouth Derby with BUBBLY PHOENIX, The Wimbledon Leger with BUBBLY TOTTI, the Wimbledon Puppy Derby with BUBBLY BEAUTY, the Sunderland Gold Cup with BUBBLY GOLD & the Kent Derby with BUBBLY BLUEBIRD.
***BUBBLY WHISPER***
(Shares available at a one off all inclusive cost of £120)
You are invited to buy a share in BUBBLY WHISPER for a one off all-inclusive cost of £120.
Our staying bitch Bubbly Secret had a litter of pups on January 26th 2019 by Clonbrien Hero. As part of her breeding deal we were given a free brindle bitch puppy by the breeder which we have called BUBBLY WHISPER.
She has been reared in Ireland by Mike Westlake and she starts her schooling in February. She will be ready to come over to Youngy in March and will be racing for us by May.
CLICK HERE to see her on the gallop on her first birthday.
With no purchase charge for her our only costs are for her rearing, schooling, training and ultimately her homing fees over a four year period which are set at £12,000. A share in her is therefore just a one off all-inclusive cost of £120 and that includes all physio, vets, travel fees and all other costs. Once she retires you will receive your share of her prize money.
As always there will be a strict maximum of 100 shares and I will email you a share certificate with her photo and text you with regular updates and videos of her wins.
Please email me back or text me on 07885 328669 to reserve your share and then transfer £120 to The Champagne Club Bank Account Number 01142175, Sort Code 30:97:24 with your SURNAME/WHISPER as the reference. Alternatively you can send a cheque made payable to The Champagne Club to Bramleys Orchard, Little Warley Hall Lane, Brentwood, Essex CM13 3EU.
Don't miss out on this well bred pup. She could be the next TV Trophy winner!
Cheers, Steve
BUBBLY CRACKER
(All Shares Sold)
Whelped June 2018
Brindle and white dog by Coolavanny Jap out of Droopys Rhiona.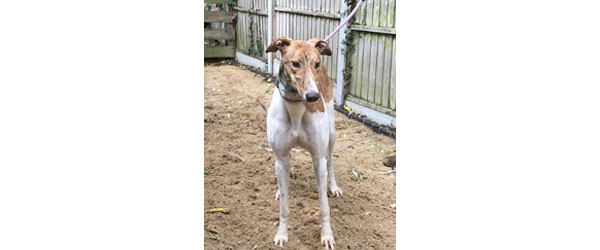 BUBBLY PRIDE
(All Shares Sold)
Whelped September 2018
Brindle Dog By Droopys Nidge out of Swabys Pride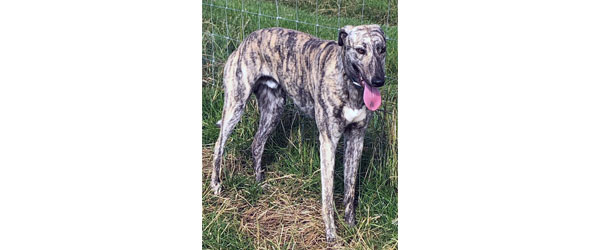 CLICK HERE to view a video of him.

THE CHAMPAGNE CLUB celebrated its 30 Year Anniversary at Romford in June 2016 and the turnout from Members, Guests, Family and Friends was incredible.

BUBBLY TORPEDO didn't let us down when winning comfortably with the money down on his
debut over six bends.

A small dog with a brave heart he went on to land The Romford Essex Vase in December that year.


BUBBLY BLUEBIRD is without doubt our most successful greyhound. He was purchased out of The Droopys Stud in the spring of 2016 and during that summer he won 10 consecutive races to land The Sunderland Puppy Cup, The Hove Puppy Trophy, The Nottingham Puppy Classic & The Kent Derby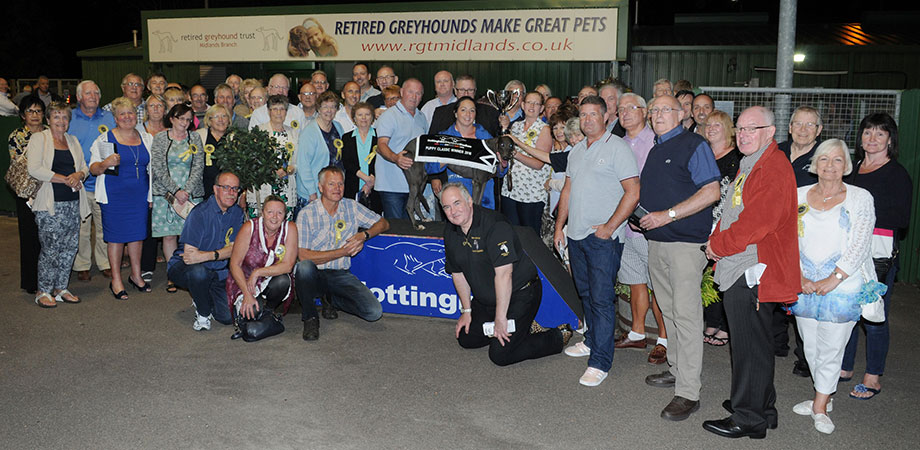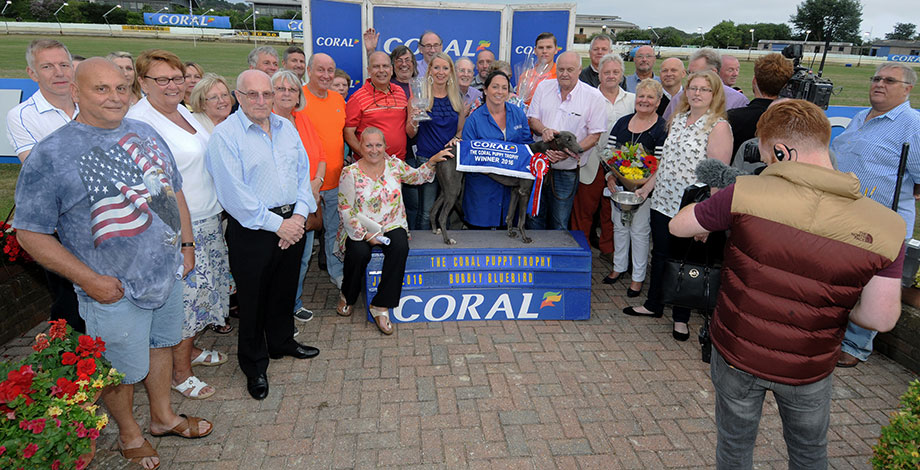 This got him the award of 'The Best Newcomer' at the GBGB awards.

He was desperately unlucky in his two Derby campaigns at Towcester but went on to win The Anglo- Irish Invitation at the 2017 Derby.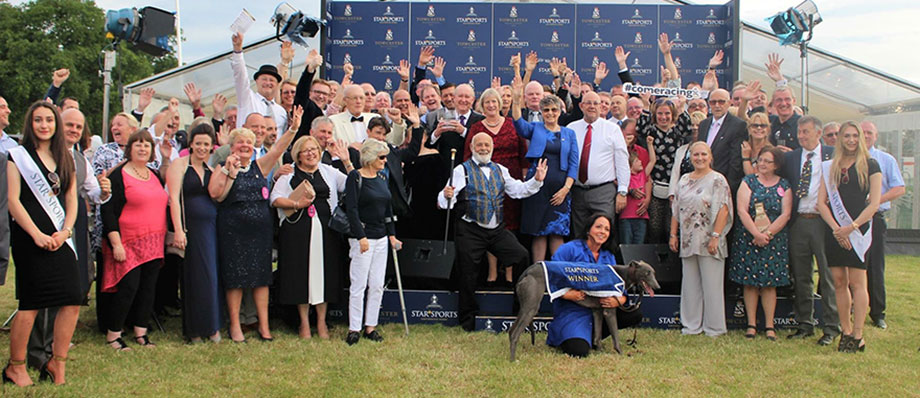 He ended his wonderful career with a sensational photo final finish victory in The Eclipse at Nottingham against the Derby winning Doritos Wildcat.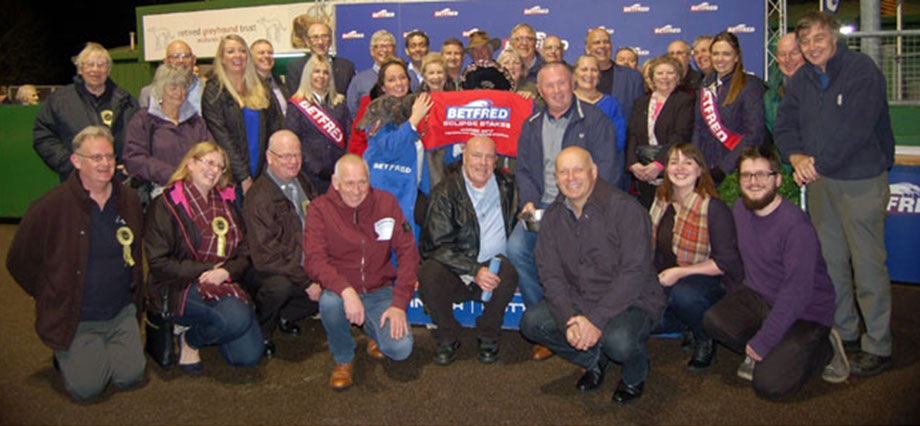 A great greyhound to own who is now the sire of two lovely litters out of BUBBLY ROSE & BUBBLY TEMPEST.
BUBBLY TURBO was perhaps the most consistent of all of our greyhounds winning races in three Derby's and qualifying for multiple finals.

He won some nice races including a Consolation race at Central Park and The Derby Invitation at Towcester.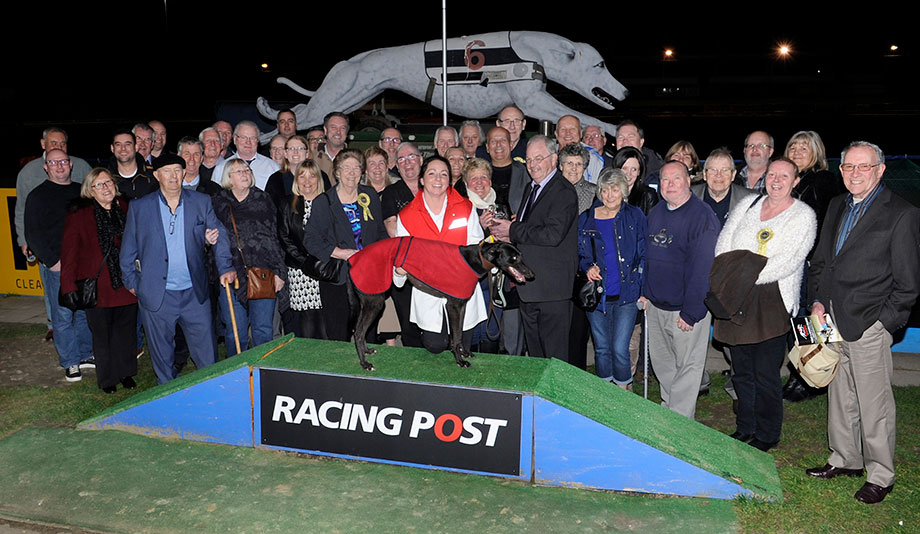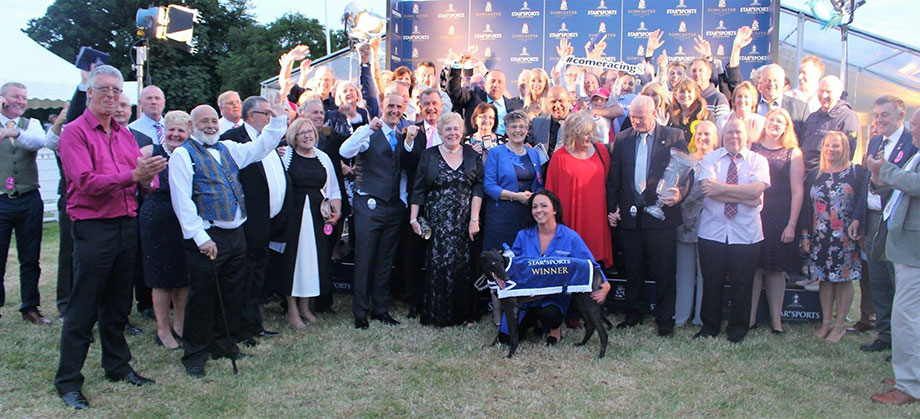 It seemed that a big prize was going to elude him until he ran a cracking race to land The Henlow Derby in 2018. The most emotion I have seen for a BUBBLY winner ever!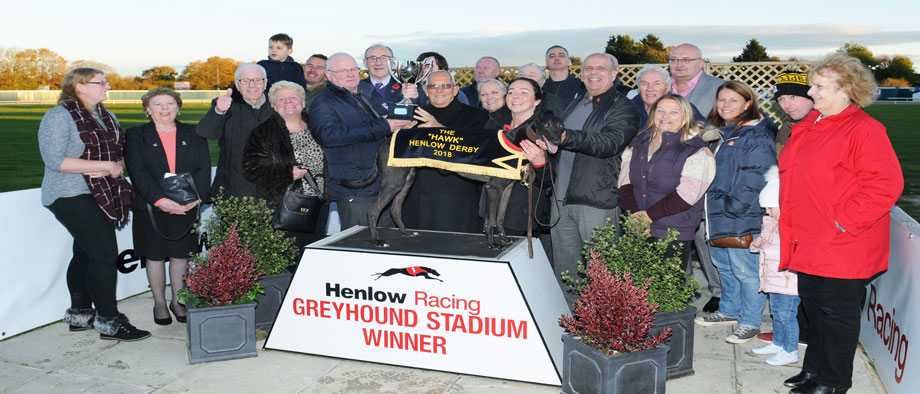 BUBBLY PRINCE was the first Champagne Club greyhound to win a big competition back in 1999 when he landed The Cesarewitch at Catford when it was perhaps the top staying competition in the country.

He then broke the track record at Romford over 750m before badly hurting his wrist and after that he was never quite the same.
BUBBLY TOTTI was an expensive purchase back in 2007 but he immediately paid us back with a decisive win in the Festival Puppy Stayers competition at Walthamstow.
He won plenty of races but the night he won The Leger at Wimbledon in October 2008 will stay in my memory for ever. I think we created a record for the number of people on the winners podium.




Please text Steve on 07885 328669
if you would like to be informed when we syndicate our next Bubbly.