Welcome to 'The Champagne Club!'
Owning a racing greyhound is a very exciting hobby but the cost of buying your own greyhound and then funding the kennel bills, veterinary costs and homing fees can become very expensive. However, being involved in a syndicate is not just about sharing costs…it is also about sharing the joy of winning. That's why The Champagne Club was formed over 30 years ago and it has now grown to become one of the most successful syndicates in this great sport winning many big competitions like the The Yarmouth Derby with BUBBLY PHOENIX, The Wimbledon Leger with BUBBLY TOTTI, the Wimbledon Puppy Derby with BUBBLY BEAUTY, the Sunderland Gold Cup with BUBBLY GOLD & the Kent Derby with BUBBLY BLUEBIRD.
***BUBBLY OWEN***
(Shares available at a one off all inclusive cost of £105)
Whelped August 2017
Brindle Dog By Taylors Sky out of Billis Lee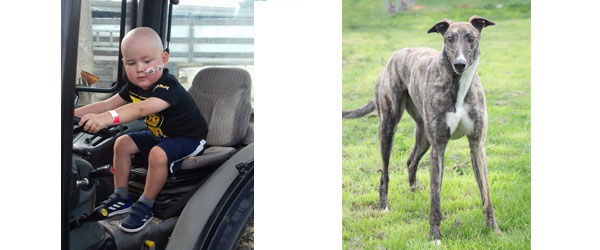 I am excited to announce that we have purchased a 50% share in a cracking August 2017 brindle pup currently called FREE WHEELER. Paul Young will retain the other 50% and he will be renamed BUBBLY OWEN after a 5 year old boy called Owen Cooper. Owen is the greyhound loving son of Club Member Sarah Cooper and he is currently fighting Cancer at Great Ormond Street Hospital.
Our 50% share of his purchase and of his training fees for the duration of his career is £10,500 so a one off all inclusive share in him will cost £105. We will immediately be gifting Owen £500 to buy a set of junior golf clubs for when he is well and some toys and books for while he is in hospital.
As always there will be a strict maximum of 100 shares and i will email you a share certificate with his photo and text you whenever he races. Once he retires you will receive your share of his prize money.
Please text me on 07885 328669 to reserve your share and then transfer £105 to The Champagne Club Bank Account Number 01142175, Sort Code 30:97:24 with your SURNAME/OWEN as the reference or alternatively you can send a cheque made payable to The Champagne Club to Bramleys Orchard, Little Warley Hall Lane, Brentwood, Essex CM13 3EU.
I am confident that both OWEN COOPER and BUBBLY OWEN have fantastic futures ahead of them.